When end of tenancy cleaning Richmond or in any other area is in question, as a landlord, you need to be aware of certain things. You have to make sure that your property is cleaned thoroughly in between tenancies. This needs to be achieved to avoid any legal issues and to provide a safe and hygienic environment to your tenants. The only issue is you need to achieve a certain level of professionalism when it comes to tenancy cleaning. This is where pure end of tenancy cleaning comes into the picture.
In this article, we will cover all your responsibilities as a landlord regarding tenancy cleaning. Also, helps you understand, how professional services can be super helpful.
1) Understanding your responsibilities
There is a common misconception that only tenants are responsible for providing a tidy home after the end of the lease. to some extent, it is true, but not in all cases. If it is not included as their responsibility in the lease agreement, then they are not responsible for this cleaning. However, all the local laws make sure that landlords have to provide a clean place to their tenants, so you have to provide a clean setting to your tenants.
Moreover, if you are deducting a certain amount from the deposit money of your tenants then you can't demand your tenants for a professional tenancy clean.
2) Checklist for End of Tenancy Cleaning London
London is particularly known for its strict laws in terms of tenancy cleaning. Various localities have various local laws, but one thing is constant which is achieving a certain level of cleanliness. To achieve that certain level, you need to be thorough with your assessment and create a checklist that covers everything. A few things that your checklist must contain are;
Kitchen detailed cleaning
It should cover the cleaning of all the kitchen cabinets from inside out, all surfaces, and thorough floor cleaning.
Bathroom sanitation and detailed cleaning
Ensuring that your bathroom is thoroughly cleaned and sanitized. Moreover, any soap scum, mold, or any limescale should be thoroughly removed.
If the carpet requires washing then you should consider the option of power washing or steam washing it.
Ventilation system cleaning
To make sure the air of the place is clean and allergen-free, the appropriate cleaning of the ventilation system is quite necessary.
Windows and upholstery cleaning
Windows should be cleaned inside out. moreover, upholstery should be thoroughly cleaned to give the place a well-kept look.
Cleaning the appliances from the inside out to make sure they are in perfect condition.
3) Professional cleaning vs. DIY cleaning
Unlike regular cleaning doing tenancy cleaning on your own is quite a challenging task. Thus, unless you have lots of time we suggest you have professional services such as End of tenancy cleaning Watford. Such services allow you to manage other things while they are tackling your work. Our professional end-of-tenancy cleaning services are provided by professionals who are experts in what they do. So, the areas you can overlook while cleaning will cover them as well.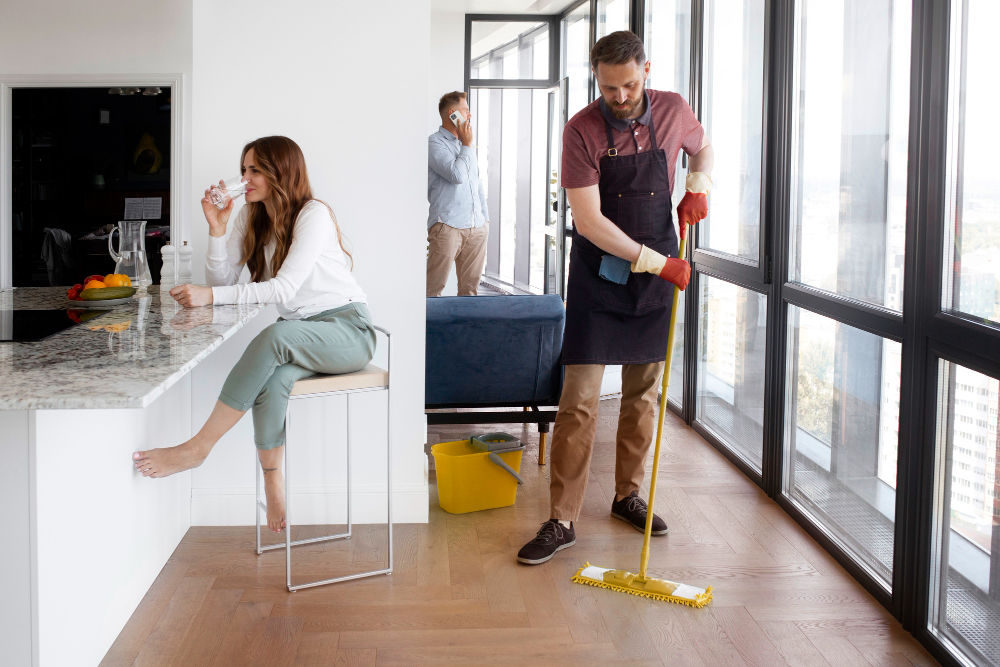 Moreover, you can raise the value of your property to a certain extent by having our professional tenancy cleaning services. These services cover all the little details that otherwise are neglected while cleaning on your own.
4) Communication with your tenants
One thing you should know is that even if the lease agreement contains the clause that your tenants need to have services like End of tenancy cleaning Islington, you should be clear about your demands. Clear communication is one of the major things that has to be considered. You have to clearly state all your expectations to your outgoing tenants. Otherwise, it would only cause disputes, and that is just a headache.
You can conduct a pre-moveout inspection to make sure your tenants did the right job cleaning your place. This way you can pinpoint the areas that need more attention in a polite manner. It would be a great way to have your property cleaned the way you want, also your tenants won't have to be stressed about the things at the last time.
5) Security deposit deductions
You have the authority to deduct the security deposit if your desired level of cleanliness is not achieved. But it would be better that you consult with your tenant and have professional service such as End of tenancy cleaning Harrow beforehand. It would avoid the dispute over security money in the end and you and your tenant both can have your desired outcome.
Conclusion
In the end, we would just say that tenancy cleaning is one of the basic requirements that local laws make obligatory. As a landlord, it is your responsibility to provide a tidy space to your tenants. To help you with this pure end of tenancy cleaning is here for you.